The Manna Trail
About the Author
The author has degrees in speech, linguistics, and computers.  He has worked various jobs, including projectionist, high school substitute teacher, college English teacher, bank teller, marketing specialist, computer programmer and systems administrator.  He lives with his wife and two of his children in Miami, Florida.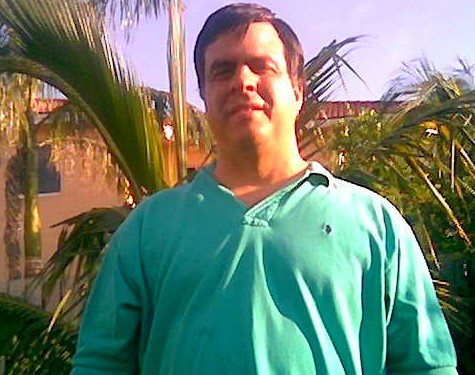 (My seven-year-old daughter took this picture.  I must seem pretty tall to her.)
What makes me qualified to write a book? It doesn't matter, because I already did it. Here is some more background anyway:
Academics:
·  University of Florida  – Bachelor of Arts in Speech
·  University of Florida  – Master of Arts in Linguistics
·  Miami-Dade Community College – Associate of Science in Computer Information Systems Analysis - with Highest Honors
You get more detail as you read down the page. Nobody's twisting your arm.
Certifications:
·  A+ (Apr 2000); i-Net+ (Nov 1999); Network+ (Aug 1999); Security+ (May 2005)

·  Checkpoint Certified Security Engineer (Jun 2001)

·  Cisco Certified Design Associate (Aug 2000)

·  Cisco Certified Network Associate (Jul 2000)

·  Citrix Certified Administrator (May 2001)

·  Hewlett-Packard Certified IT Professional – HP-UX Systems Admin (Sep 2000)

·  Microsoft Certified Database Administrator (Mar 2000)

·  Microsoft Certified Professional + Site Building (Mar 2001)

·  Microsoft Certified Systems Engineer + Internet (Nov 1999)

·  Nortel Networks Certified Design Expert (Sep 2000)

·  Sun Certified System Administrator for Solaris 2.6 (Nov 2000)
The following organizations have seen fit to employ me, to our mutual benefit:
Nortel    ßcurrent employer

School Board of Alachua County
Here are some of my favorite links:
http://www.hos.com These artists keep me company while I write.
http://www.lockport-ny.com It's been a long time, but every once in a while I wonder what is happening in the old home town.
http://www.theweathernetwork.com/features/camweather/displayCams.htm?CMON0004   I learned to admire the Canadian Parliament building during a visit to Ottawa.  I like to look at it, especially during the winter and around Canada Day (July 1st).
OK, that's enough for now...